As a final mini assignment to my professional practice students this semester, we asked them to prepare a short professional introduction, for a scenario of their choosing. This could be for an informational interview, a public talk, for their website, etc. Because I hadn't assigned this before, I didn't have any student precedents to share, so I decided to prepare my own in order to model for them. It was fun!
My name is Sarah Catherine Hay. My mother is Carole, her mother is Audrey and her mother was Emily. My maternal ancestors are from England and immigrated to Anishinabewaki territory (Sudbury Ontario) in the 1950's so that my grandfather Harry could work in the nickel mine. My paternal ancestors are from Ireland and Scotland – they settled in Huron-Wendat and Haudenosaunee territory (Kingston, Ontario) in the mid 1800s. My ancestors from Scotland, the Hay Clan, were stone masons, metal workers and bridge builders. I grew up on unceded Algonquin) territory (Ottawa Valley, Ontario). I currently live on the unceded and ancestral territories of the xʷməθkwəy̓əm (Musqueam), Skwxwú7mesh (Squamish), and Səl̓ílwətaʔ/Selilwitulh (Tsleil-Waututh) Peoples (Vancouver BC). I am eternally grateful to be here as an uninvited guest. I am committed to unlearning and challenging the colonial status quo and to imagining better, healthier and safer ways to co-exist. I am mother to Jack and Oliver. 
Design, research and dialogue are my primary drivers for this life long adventure.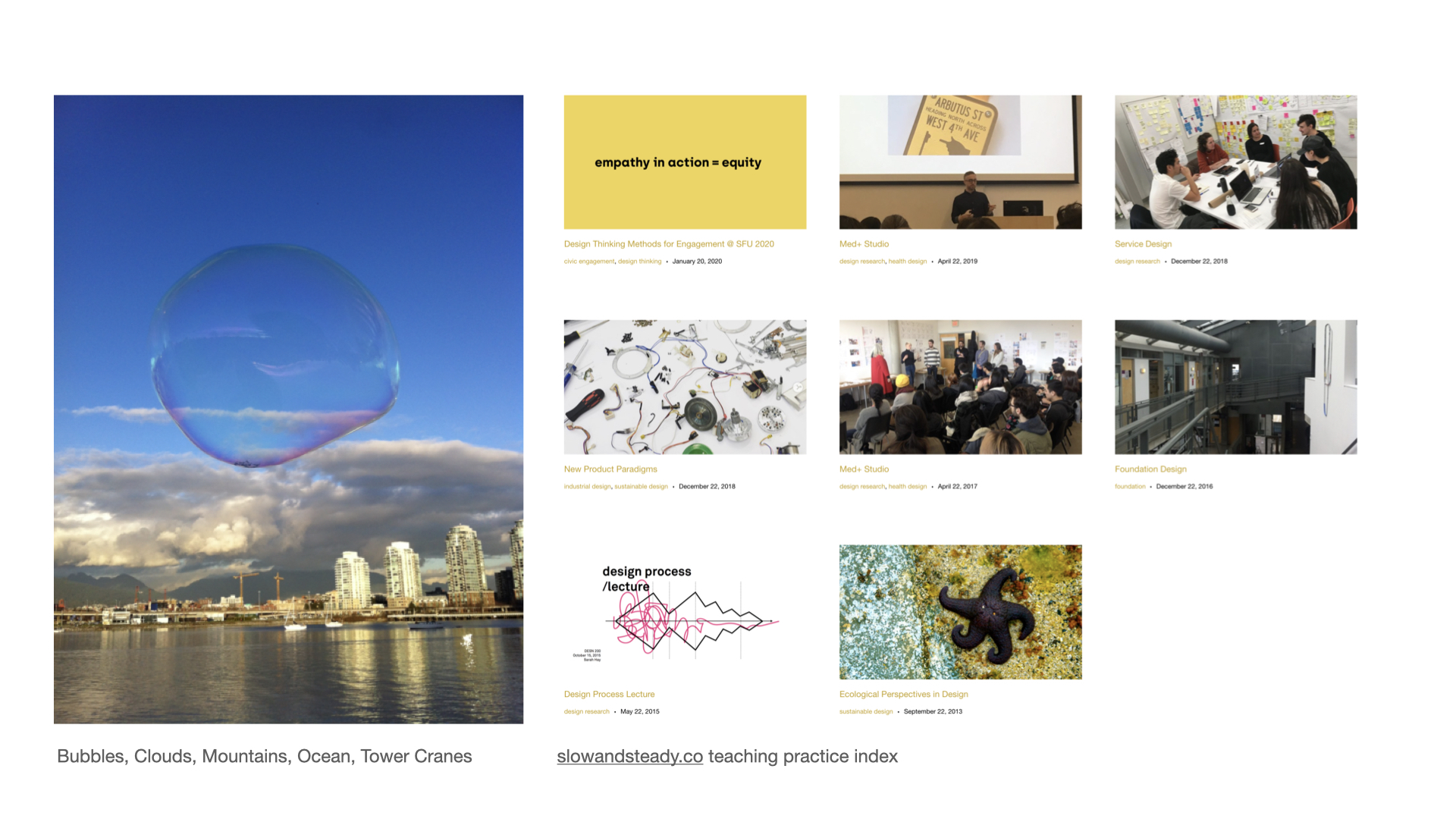 My design path has been non-linear and emergent to say the least. My formal design education began at Carleton University in the ID program. A co-op position in UI design brought me to the west coast where I swiftly fell in love with the geography and art community here. I was determined to return after graduation… which I did via a hippy friend and a mobile juice and smoothie operation. He needed help for the festival circuit that summer. I left an amazing exhibit design job in Ottawa which I landed during our grad show. Upon returning to Vancouver, I was introduced to faculty and students at Emily Carr and started growing roots in the eco / sustainable design circles. When the Master's program at Emily Carr was approved, I applied. Under the supervision of Louise St. Pierre and Randy Lee Cutler, my thesis explored slow design and I built a sea worthy raft out of salvaged materials as a way of testing some of the theories around slow design. Grad school opened up the door to teaching, which I have been doing since 2012. I believe teaching and being part of the community at Emily Carr help to strengthen and support the other areas of my professional practice and vice versa. 
Today, I describe myself as an interdisciplinary slow designer, facilitator and educator with an abundance of experience applying human-centred / participatory design methods in support of a healthy and meaningful collective existence. I am the founder and lead designer at Slow & Steady Design; co-director of the Vancouver Design Nerds Society; a sessional instructor and researcher at Emily Carr University; and an instructor at Simon Fraser University's Semester in Dialogue.
As a self described slow designer, I am interested in elements of time, temporality and reciprocity, and how the deliberate act of slowing down connects and supports our long game commitment to decolonization, systems change and being in right relationship. Spending as much time as I can in nature and on the water, appreciating the colours, textures, patterns and cycles, fresh air, the perfection in chaos, lessons of the seasons, life energy and change. This is what fuels my commitments and passion for design, dialogue and social change.